A World of Supernaturals Blog
-The Techie Team-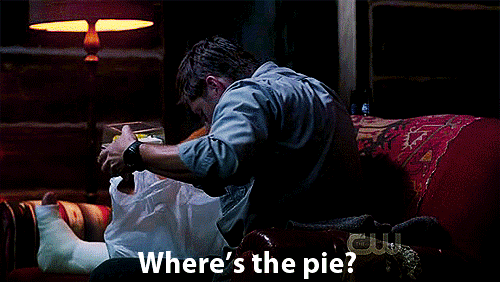 "Guess the supernatural character correctly in the comments and win a slice of pie!"
Written By:
Belle James
How many clues will you need to read to guess who it is?
Is it possible I am getting a crush on one of the main characters of Supernatural? I think I might be...
Fact 1) He was born on May 2nd 1983.
Fact 2) He is a hunter.
Fact 3) He is also the person that is supposed to host lucifer.
Fact 4) He is a descendant of Cain and Abel.
I find that this main character cute and he has gone through so much.
Fact 5) This demon Azazel killed his mother when he was a baby.
Fact 6) He had a niece named Emma.
Fact 7) He has died and came back to life.
Fact 8) He has two brothers one is his half brother who is the youngest and the other is his older brother.
Fact 9) He was always left at Plucky Pennywhistle's Magical Menagerie.
Fact 10) Just like me he is also very afraid of clowns.
Fact 11) He met Amy but had no idea that she was the daughter of a kitsune.
Fact 12) He went to stanford universy.
This ten year old girl likes this character, and will maybe put you in a tree if you take him away.
Let us know how many facts you needed to read before you guessed which character we were talking about! Post your fact number and character guess in the comments to win a slice of pie!